NYK
HS

-N08

Entry Level Gaming Headset
50mm Driver
Leatherette Earcups
3.5 mm Audio Jack
Retractable Headband
3 Color Choices
ENTRY LEVEl gaming headset WITH RETRACTABLE HEADBAND AND SHORT MICROPHONE
The NYK HS-N08 is a entry level gaming headset that already equipped with 50mm driver, retractable headband, and short microphone. The 40mm driver in this headset is big enough to produce clear and powerful sound. The retractable headband and leatherette earcups keeps your head and ears comfortable during your long game session.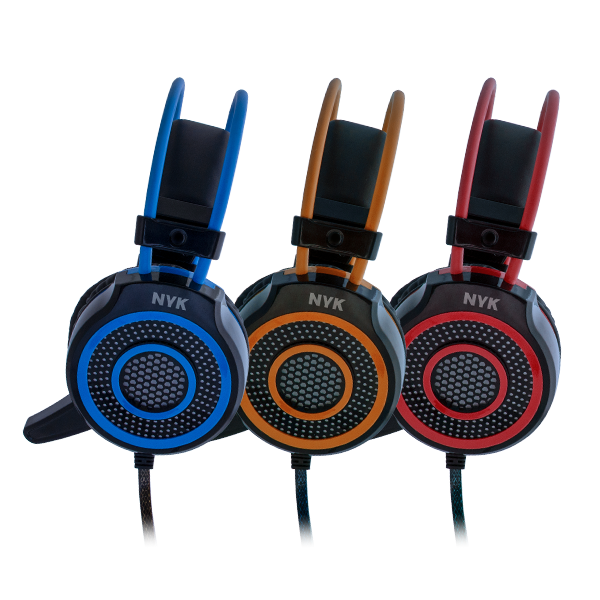 ENTRY LEVEL GAMING HEADSET
Headset with 50mm driver, Short Microphone, and 3 Color Choices 
This HS-N08 entry level gaming headset already have 40mm driver and short microphone. The short microphone allow you to play freely without fear that the microphone will disturb your view while playing games. This headset also have 3 choices of color (Blue, Orange, and Red).
Cord Length: 2500 ± 10% mm

Weight: 335 ± 5 g

Mic sensitivity: -48 ± 2 dB

Mic frequency range: 100-20 kHz

Mic type: Omni-directional

Mic dimension: Ø 6.0 x 5.0

Mic test voltage: 2 V DC


Size (W x H x D) mm: 165 x 160 x 105

LED current: 15 mA

Whole current: 35 mA
Speaker diameter: 50 mm

Impedance: 32 Ω ± 15%

Rated input power: 20 mW

Max input power: 30 mW

Sensitivity: 112 dB ± 3 dB

Channel balance: 3 dB

Phase: Same phase