NYK
HS

-N09


RGB Professional Gaming Headset
Dual Headband Design
Retractable Headband
Flexible Microphone
RGB Illumination
50mm Driver
Professional Gaming Headset with RGB ILLUMINATION and FLEXIBLE Microphone
NYK HS-N09 Rubick Headset is a professional gaming headset with RGB Illumination and Flexible Microphone. This headset also have Dual Headband design to make your head fit and comfortable while playing games. The 50mm driver on this headset also give the powerful and clearer sound.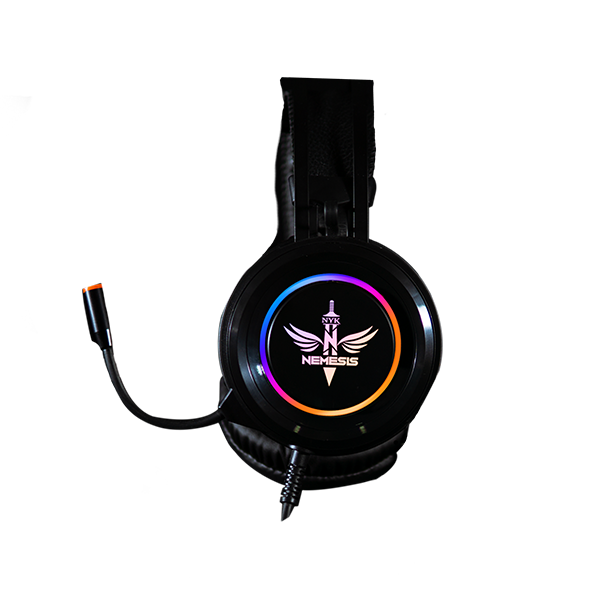 COOL RGB ILLUMINATION AND 50mm big driver
Cool RGB and Big Driver
This headset already have beautiful RGB illumination that can improve your gaming experience. Beside that, this headset also have 50mm big driver that gives your powerful and clear sound.
Rated Input Power: 0.02 W

Maximum Input Power: 0.03 W

Impedance: 21  15% ohm

Sensitivity: 105dB±3dB

Channel Balance: 5 dB

Phase: Same Phase

Driver: 50mm

Interface: 3.5mm Audio


Cable Length: 2 m

Mic Frequency Range: 100-10 KHz
Mic Type: Omni Directional
Mic Impedance: 2.2K
Size: 230 x 180 x 100 mm
Tokopedia
Shopee
Daya Input Terukur: 0.02 W

Daya Input Maksimum: 0.03 W

Impedansi: 21  15% ohm

Sensitivitas: 105dB±3dB

Keseimbangan Channel: 5 dB

Phase: Same Phase

Driver: 50mm

Interface: 3.5mm Audio


Panjang Kabel: 2 m

Jarak Frekuensi Mic: 100-10 KHz
Tipe Mic: Omni Directional
Impedansi Mic: 2.2K
Ukuran: 230 x 180 x 100 mm